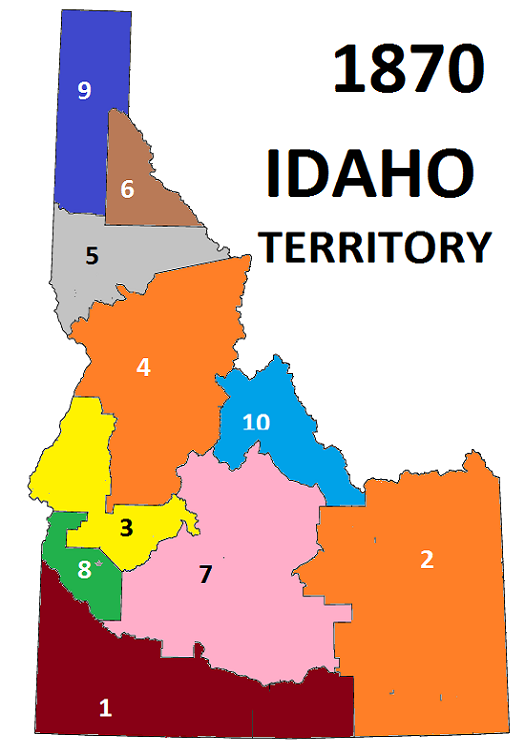 Original Census Map
Created by Elaine Johnson © 1998
The 1870 ensus brought several new county formations, however one county, Kootenar (KOOT-nee) County, had been unorganized until the next decadal enumeration meanwhile its original date of December 22, 1864 although it seems to be remained the date of organized. Kootenai County in this census was incorporated with Nez Perce County. It is possible that the Idaho Legislature had reserved feelings over the forst formation of Lat Toh County about February or March 1864, and it was renamed to Kootenai County to which this county to be unorganized.
Then another county, Oneida County, parts of the southeast borders to Utah Territory was enumerated in Cache and Rich counties. The following counties were added within this past decade:
(1) Owyhee (31 Dec 1863)
(2) Oneida (22 Jan 1864)
(3) Boise (4 Feb 1864)
(4) Idaho (4 Feb 1864) (5) Nez Perce (4 Feb 1864)
(6) Shoshone (4 Feb 1864)
(7) Alturas (4 Feb 1864)
(8) Ada (22 Dec 1864)
(9) Kootenai (22 Dec 1864)
(10) Lemhi (9 Jan 1869)
U. S. Census Bureau (1996) states Idaho population was 14,999, which when down by 52% from the territorial census in September 1863. But this is normal considering losing Missoula County, Montana and region east of the continental divide that consists of Wyoming western territory. Alos, when reviewing those listed in the Agricultural, Industrial, Mortality schedules, many of those were not liste in the actual census.
Link: 1870 Agricultural, Industrial, Mortality Schedules by Idaho State Historical Scciety
Example of one newpsper's entry of this census: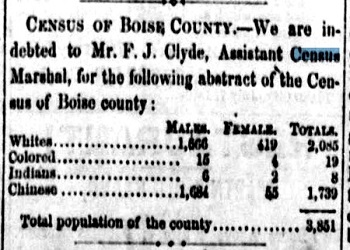 Cited Source:
Idaho World, The (Idaho City, Idaho Territory)
Thursday, September 22, 1870, p. 2 col. 3
Provided by Chronnicling America,
a part of the Library of Congress
Additional Readings:
ISHS Territorial Reference Series:
Territorial Government, 1863-69
Early Post Offices
Other References to the Territorial Days